Enriching production
Even cost issues should push to use PTZ, camcorders or minicams together. On the other way, video operators are not keen on mixing cameras anticipating complicated setup and impossible matching between cams.

Cyanview proposes solutions to connect mixed cameras on IP and to shade them from a single RCP providing a coherent operator interface. Color correctors or CY-VP4, the ultimate camera matching device, can be driven by the Cyanview control panel. No more reasons to mix cameras in your production.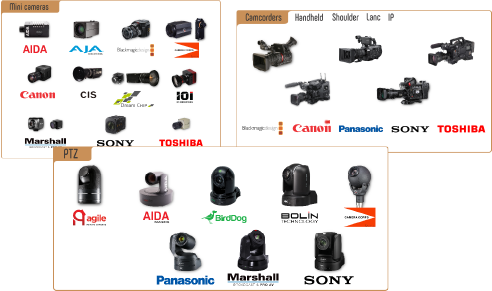 Compatibility
Cyanview system drives most of the existing mini-cameras, PTZ and camcorders whatever its physical interface is: serial Lanc, serial specific or IP. It also provides lens control when available and adapter cables when needed. New protocols are added each month, so do not hesitate to contact us to get more info.
Cost optimization
Every camera type offers a trade-off between size, image quality, setup efforts and costs. As the continued pressure on production budgets tightens, choosing the right combination is the right way to optimize the resources.
Workflow integration
User interfaces specific to PTZ can be added to control camera moves. Cyanview lets the choice of connecting low cost user interfaces through USB port of the RCPs or even the banded control panel can be added through a simple VPN link to get the best of the two worlds.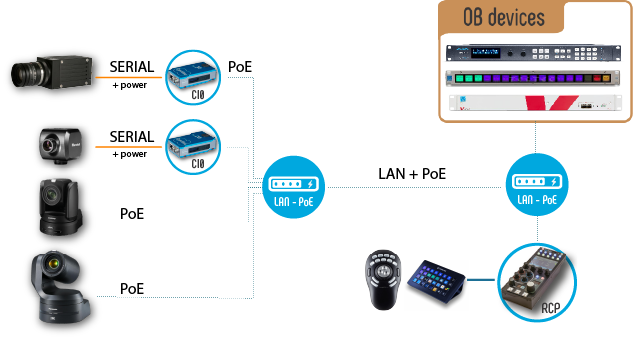 Setup
Converting mini-cameras to IP eases their deployment . Setup can be focused on view angles and positioning of cameras: the mix of cameras seems to be IP connected and PoE powered.
The video operator has a unique and coherent remote control station to regulate exposure and apply the available camera's pre-processing. UI devices specific to pan-zoom-tilt control can be connected to the system.
Shading and matching
Normalizing cameras can be settled through camera pre-processing or thanks to external color correctors when required . The video operator manages these concerns from a common control station inside an homogeneous workflow. Matching of cameras can be achieved through CY-VP4, an advanced color corrector able to apply top of the art multi-matrix transformations on four video channels.