The Cyanview architecture brings MSU functionality that can be distributed over any network ! As shown on this diagram you can have one RCP per camera and another RCP acting as your master setup unit 𝗹𝗼𝗰𝗮𝗹𝗹𝘆 𝗮𝗻𝗱/𝗼𝗿 𝗿𝗲𝗺𝗼𝘁𝗲𝗹𝘆 at the same time. It can be used to start record on all cameras at once or to access the camera menus from another position for configuration or erasing cards.
This is a typical workflow used for Cinematic Multicam Live productions:
• large sensor cameras (Sony FX9),
• various lens combinations thanks to the RIO & RIO Live (Canon Cine Servo, Fuji Cabrio, Canon EF prime & zoom lenses with Tilta Nucleus motor),
• everything connected via smpte fiber or over 4G.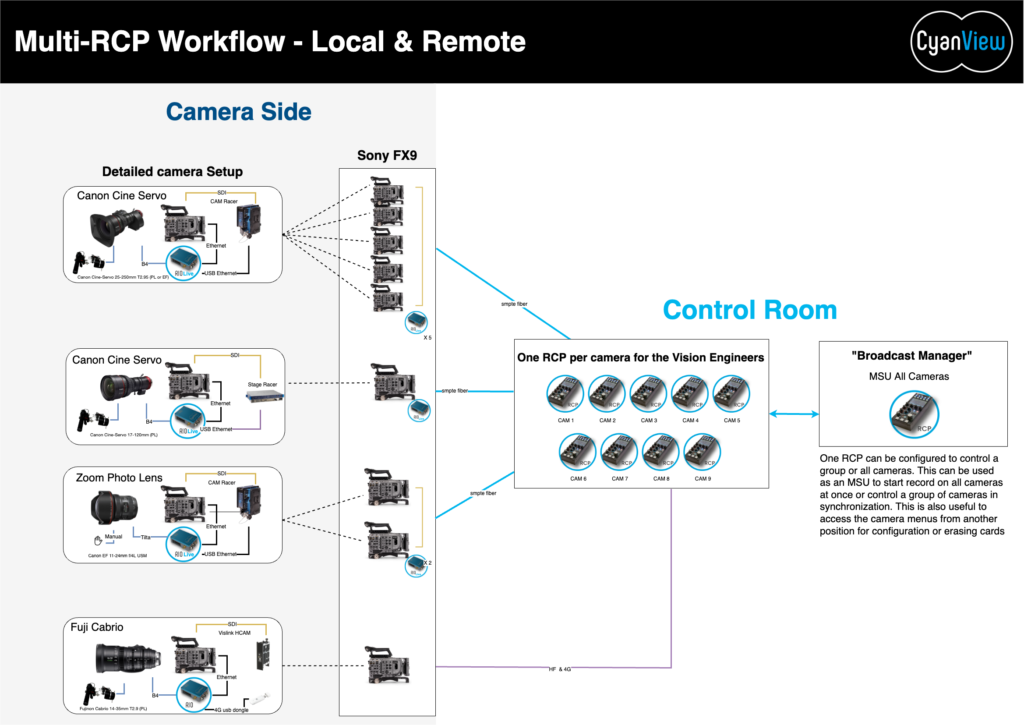 𝘙𝘦𝘢𝘭 𝘸𝘰𝘳𝘭𝘥 𝘶𝘴𝘦 𝘤𝘢𝘴𝘦 𝘢𝘳𝘵𝘪𝘤𝘭𝘦 👉🏻 https://bit.ly/3Ft9vmR
𝘊𝘰𝘯𝘵𝘢𝘤𝘵 𝘵𝘩𝘦 𝘵𝘦𝘢𝘮 👉🏻 https://www.cyanview.com/contact-us/
This post was originally published on LinkedIn
---